Heavy Class Action Could Help Notre Dame's Chase Claypool Thrive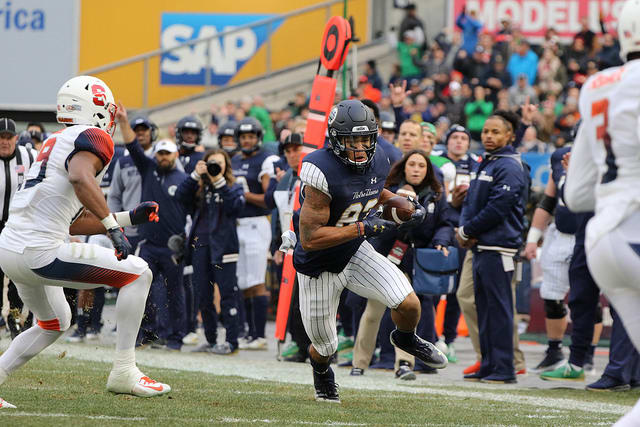 Junior wide receiver Chase Claypool has a lot of class. Literally.
That's because he has deliberately overloaded himself in the classroom this spring semester. From January through this May, he has enrolled in or is taking eight total classes for 18 credit hours (12 is considered full time).
"It's a grind now, but it's worth it," said Claypool, who is planning to graduate in December while taking a much lighter load in the esteemed Mendoza College of Business (management consulting) during the fall semester. "I know how important sleep is. Having five or six classes is tough — having eight is really a struggle. But you get into a routine, you grind through it. Then once you hit summer and fall, sleep comes so easy."
Once upon a time the 6-4, 229-pound native of Abbotsford, British Columbia was considered a sleeper as a college football prospect. Now in 2019 as a senior in his "contract year," nobody better sleep on him.
"If Chase is focused, he's going to dominate," said third-year Notre Dame offensive coordinator Chip Long earlier this spring. "That's where he is right now … The focus in that room is as good as I've ever been around in a receiving group top to bottom."
While much of the interest, per usual, is on those who have not yet played or seen minimal action, namely the five-man rising sophomore receiving corps, it is Claypool and fifth-year senior Chris Finke who will be the 2019 mainstays after combining for 99 receptions last year.
The 2018 campaign was the appetizer for Claypool while snaring 50 passes for 639 yards (12.8 yards per catch) and four touchdowns for the College Football Playoff-bound Fighting Irish. By the second half of the season, his output even began to exceed that of top 2018 senior target Miles Boykin, who provides an inspiration to Claypool of taking his game to the "next level."
Entering his senior year in 2018, Boykin had only 18 career catches. His work ethic and physical skill set enabled him to more than triple his previous numbers (59 catches, 872 yards, eight touchdowns) and forego a fifth season of eligibility to turn pro, where he became one of the top stories last month with his performance at the NFL Combine.
Claypool enters his senior year with 80 career catches already (more than Boykin had in his career) and a single-minded purpose to fulfill his dream of playing in the NFL. He has never been shy about proclaiming his aspiration to play for pay in "The League," even submitting his name for evaluation this winter. The recommendation was that he remain for his senior year — and seeing how much difference a year made for Boykin also helped.
"You always get better every year, and The League is like the last destination," Claypool said. "When you get to The League you want to be as prepared as you can possibly be … There's more I can put on film in terms of route running. The more routes I can run, the better. The more I can show the scouts, the better. Just catching the ball in time, try to get yards after the catch …"
One area where Claypool already was peerless on the team last year was special teams coverage — another way to ingratiate oneself with the NFL — where he recorded eight tackles (seven solo). His size, physicality and aggressiveness made the transition to boundary receiver (W), which Boykin played last year, inevitable. He boasts similar size to predecessors Boykin (6-4, 228) and Equanimeous St. Brown (6-5, 203), who did turn pro after his junior season in 2017 and was drafted in the sixth round by the Green Bay Packers.
"Having a big guy in the boundary is kind of part of our offense," Claypool said. "It was kind of natural to put me there."
Claypool said his game is no longer muddled about what to do, which now allows him to concentrate fully on how to go about his business. He's heard the criticism, especially from the coaching staff, about not always having consistent focus and letting setbacks distract him, but he believes it's been more about energy level, including the heavy class load. He's taken great pains to maintain proper sleep and nutrition to keep himself fueled properly, physically and mentally.
Still, every now and then his quest for flawlessness will show up on a missed opportunity. Earlier this spring in a practice when he didn't finish a play in a one-on-one versus classmate and top cornerback Troy Pride Jr., Claypool picked up the football and flung it against the Loftus Center wall with a force that reverberated. Last year the top individual battles in practice featured Boykin versus consensus All-American cornerback Julian Love, and this year it's Claypool against Pride.
"He makes sure he's matched up with me … He's s going to make me a better player every time," Claypool said. "He's one of the best 'go ball' DBs in the country. If I have that route, I make sure he covers me so I can get a little better.
"Coaches are saying you're in a position to have a breakout year and do something you haven't done yet, which is just dominate every play ... I'm trying to leave behind a legacy."
And be among the top of his class next football season … with much less classroom work.