Brian Kelly Wins 2018 Home Depot Coach Of The Year
Click HERE to sign up for an annual subscription to BlueAndGold.com and get your FREE gift code for $99 in Irish apparel and gear!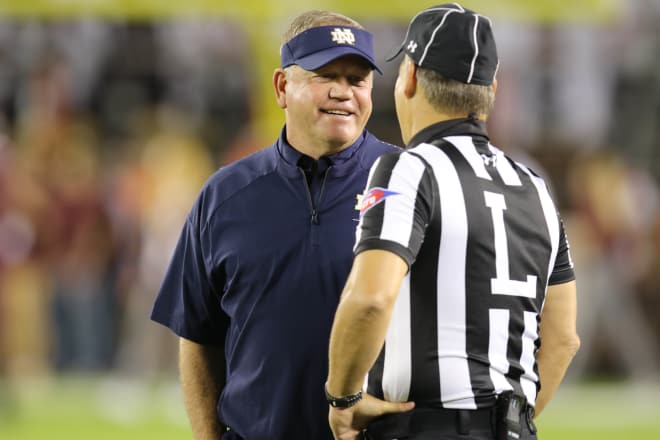 For the third time in his career, Brian Kelly has won the Home Depot Coach Of The Year.
Notre Dame finished the regular season with a perfect 12-0 record taking down three teams that finished in the top 25 of the College Football Playoff committee's rankings before the bowl season — No. 7 Michigan (24-17), No. 20 Syracuse (36-3) and No. 22 Northwestern (31-21).
Kelly the only head coach to receive the honor a second or third time. The first came in 2009 when he guided Cincinnati to a 12-0 regular season before taking the head job in South Bend. Kelly won the award a second time after the Irish finished the 2012 regular season 12-0 advancing to the BCS Championship game against Alabama.
No. 3 Notre Dame earned a spot in the College Football Playoffs and will face No. 2 Clemson in the Goodyear Cotton Bowl, which will be held Dec. 29 inside of AT&T Stadium in Arlington, Texas.
Kelly, who is the winningest active coach in the FBS with a record of 252-91-2, will be honored during The Home Depot College Football Awards tomorrow night (Thursday). on ESPN.
The Irish head coach has also been named the AFCA Division II Coach of the Year (2002 & 2003), AP Coach of the Year (2012), Eddie Robinson Coach of the Year (2012) and Walter Camp Coach of the Year (2012).
Kelly is also a finalist for the 2018 The Dodd Trophy, which honors the nation's top head coach.