Brian Kelly To Put His Stamp On Notre Dame's Defense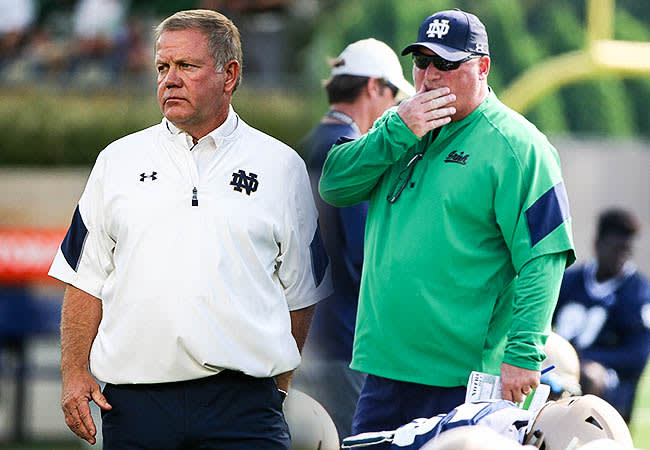 Greg Hudson has the keys, but Brian Kelly is still calling the shots.
Or as Kelly put it at his weekly press conference, the defensive staff will write the music and Hudson — Notre Dame's new defensive coordinator — will be the lead singer on Saturdays.
"He's going to be out front, but he just got here," Kelly said of Hudson. "He's just — in terms of being, you know, assuming this role, he's learning everything as well."
Hudson was not hired to call to the defense. He was brought on as a defensive analyst in June, a much smaller role that involves no direct interaction with players.
But following the firing of third-year DC Brian VanGorder following last week's embarrassing 38-35 loss to Duke, Hudson has been thrust into a role Kelly never hoped Hudson would fill.
Don't expect a defensive overhaul in one week under Hudson. Kelly said he'll spend more time on that side of the ball in practice — something he was already doing the last few weeks alongside VanGorder — and the scheme will be the same.
"It will be the system that's in place and it will have more of my stamp on it," Kelly said. "Greg has been empowered to bring the energy, the enthusiasm, the passion, the morale, the camaraderie. I need those things from Greg. That's what I need.
"I want our kids to be excited when they step on that field against Syracuse. I'll worry about the implementation, the scheme. I'll take care of that for him right now. As he gets more comfortable with what we have and what our system is about, then he will be much more involved in what we do."
The fine tuning will come in terms of personnel, as Kelly rattled off some names that haven't seen much playing time in recent weeks (Jay Hayes, Asmar Bilal, etc). Kelly said he's already pulled from his library of ideas and that the defense will be more what he's accustomed to.
From there, it'll be up to Hudson to make the calls from the sideline on Saturdays.
"We've already put our defense together for Saturday, the way I want to look defensively," Kelly said. "And then our defensive staff will call the game, and it certainly will be something that I will have some say in as well."
Linebackers coach Mike Elston will stay in the coaches booth and assist Hudson on game days.
Hudson played at Notre Dame in the late 1980's as a backup linebacker and served as the defensive coordinator at Purdue the past three seasons (2013-2015). Prior to joining the Purdue staff, Hudson was the assistant head coach and linebackers coach at Florida State from 2010-2012.
Kelly was asked what makes Hudson the right guy to draw some energy out of the players.
"He's got passion for Notre Dame. He loves Notre Dame," Kelly said. "I've been able to observe him in an analyst role and his demeanor, just all of the things that I'm looking for in our guys. We mentioned one guy that brought that attitude and demeanor was (running back) Dexter (Williams). He brings that as a person, as a staff member. He's going to be able to continue that fire that we need with all of our coaches as well."
Former Notre Dame safeties and outside linebackers coach Bob Elliott, who is currently in an off-field special assistant role to Kelly, will be keeping an eye on the defense as well as the Irish make the difficult midseason coordinator change.
"His attention as much more focused on, defensive implementation, fundamentals, obviously cross-checking," Kelly said of Elliott. "Just a much more detailed approach to what's going on.
"As I want to do some things and want to put some things in, he's making sure that they fit relative to scheme terminology that's already existing and, again, his experience can help in many ways relative to where we are right now."