Brian Kelly's August 10 Notre Dame Post-Practice Transcript
Notre Dame head coach Brian Kelly spoke at a press conference after this morning's practice and quickly jumped into answering questions.
On the advantage of having a seven-man captain class...
Kelly: "Consensus. I think when it comes to selecting captains, I've gone through the gamut over 30 years of having two captains. Guys really like to, as a leadership group, have the ability to work together as a group. So I think it has much more to do with their ability to act as a unified group more than it does anything else. They operate so much easier together as that group.
"We have kind of laid the groundwork for that with our S.W.A.T. (Spring/Summer Workout Accountability Team) groups. So it's kind of set into motion, this kind of extended leadership within the organization, if you will. So I think I've kind of set that model up in a way where they operate a lot better when there's much more of a consensus.
"A lot of the meetings that I've been having over the last couple of years since we set up these S.W.A.T. has been with eight, nine, 10 individuals. They just feel much more comfortable and have led in that fashion. So that's why you're seeing a little bit more in terms of captains."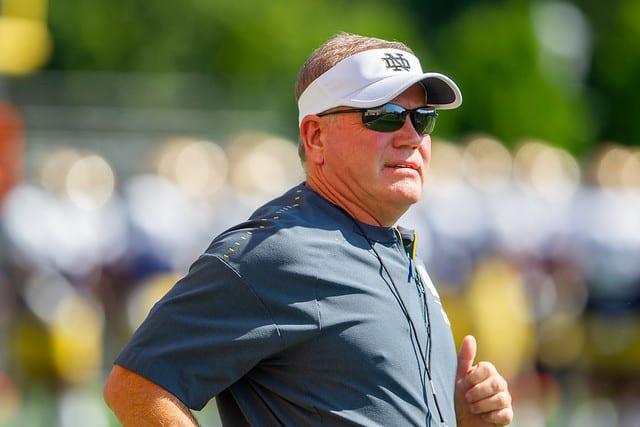 On how Khalid Kareem demonstrates leadership...
Kelly: "He recognizes how important it is to hold his peers accountable. I'll give you an example: We're in our last summer workout and Matt [Balis] was doing a million things, cause we had a run on the other side of campus, and he was also going to give out awards. So his mind was on a lot of different things.
'Well, that week, Khalid's team had fallen below the threshold in terms of points, and if you fall below a particular threshold in terms of accountability points — classroom [and] other things — then you have to run. Well, it had slipped [Balis's] mind that he had to hold them accountable for that and run them. And Khalid came up to say, 'hey, listen, our team's got to run today. Don't forget.'
"Just those little things about how we're going to be held accountable all the time. So he really shows that accountability amongst the peers [is important], and he's about doing it the right way all the time."
On Cole Kmet's broken collarbone…
Kelly: "He had surgery the other day. We put a plate in there and six screws. The timeline is anywhere from four weeks to eight to 10 weeks, depending on how he heals. Typically, we've had them back in six [weeks]. He has shown to be a really good healer.
"He came back from a high ankle sprain in a week. So we're going to take the positive end of this and think that we can get them back in four or five weeks. So we're hoping New Mexico (Sept. 14), but we'll see how it goes. Mother nature will have a lot to do with that, but I've got a great team [of trainers] and he's already up and moving around. "
On if there is a need to move additional players to the tight end position...
Kelly: "No. Tommy Tremble will step in there. We really like Tommy. His athleticism fits in well at that position. So we feel comfortable where we are."
On whether Asmar Bilal is considered to be a starter at both the Buck and Mike linebacker positions...
Kelly: "No, I don't think I'm ready to say that. I would say we're trying to find the guys that fit with their skill set. I don't think there's any question that we feel like he's got a unique skill set at that position. He's extremely athletic.
"So we're really trying to find the strengths of each one of those linebackers and how they fit into the overall scheme of things on first, second, and third down. I think we've got a pretty good idea of who those guys are.
"Now it's about finding what the best combinations are right now. So we're starting to see some combinations. Who's the shortstop and second Baseman? Who turns it best together? I know that's maybe a poor analogy, but it's really about trying to find those combinations and matching those skill sets."
On whether Kelly saw freshman safety Kyle Hamilton's interception during that day's practice...
Kelly: "I did see that cause it was close coverage. Does that mean he has four?
"Oh, he's got five. It's amazing that you guys keep stats. Is there a big board that you guys keep? How many times have I screwed up somebody's name? Just the one time. That's good. Cause he's reminded me, [long-snapper] John Shannon has, like 17 times about it.
"[Hamilton is] a good player. I mean, he's young. He's still growing. He's still learning. He's going to be a good player. There's no doubt."
On if Kelly is trying to downplay how talented Hamilton is...
Kelly: "I really didn't know he had three interceptions [during last Sunday's practice]. I honestly did not. I know he shows up more. I was looking at other things. He's now got my attention a little bit more, so I see him more in terms of what he's doing. There's no doubt."
On what Drew White has done to put himself in the running to be the starting Mike linebacker...
Kelly: "He's a downhill player. If you look up the Mike linebacker in a dictionary, you'd probably find his body type and picture. One of the things that we were really looking for is the Mike linebacker to pull those double teams off of the two down linemen.
"He's been really consistent at doing that and playing downhill, pulling those double teams off and allowing Myron [Tagovailoa-Amosa] and [Kurt] Hinish to make some plays at the line of scrimmage. So that's really been his consistent forte, and that's what we need from that position. That's why you've seen him in there more and more."

On how Kelly found out about Derrik Allen's decision to leave the program...
Kelly: "We FaceTimed with his dad, and that's an individual decision that they made as a family. You know, we wish him the best. He's going to find a place that suits him and we wish him the best."
On why so many Notre Dame football practices are open to the media during fall camp...
Kelly: "It's definitely [how close] I've gotten to the media this year after winning. Next year, if we don't win as much, you guys will never see another practice again (he said jokingly)."
On what Ian Book did well during the 2018 season and how Kelly sees him growing in 2019...
Kelly: "Anytime you step in to be the quarterback at Notre Dame it comes with high expectations. So it's about his ability to fulfill those expectations week in and week out. You start there and then you look for growth within the season, and we saw growth within the season.
"Then we saw where he needs to continue to take his game and he did that during the offseason physically and mentally. Now we're at the point where now he's shown it as a leader and his peers elected him as a captain. So anytime you have a quarterback that's immersed into the starting position, especially after taking over for a guy [in Brandon Wimbush] that won a number of games, [it's important to handle] the week-to-week scrutiny of the position.
"Then being asked to elevate his game, which he did in the spring, and then when it comes to his leadership — there's a lot to like about that. Then his confidence starts to breed confidence throughout the entire unit. We're seeing that throughout the entire unit when you have an incumbent quarterback, which I don't have a lot of familiarity during my time at Notre Dame. It's kind of a nice feeling."
On freshman punter Jay Bramblett and how he has progressed since enrolling at Notre Dame...
Kelly: "He's made really good progress. You saw that his ability is real. I'm sure you were watching his ability to hang the football. We liked his hang time. Obviously, he's not a guy that's turning it over 55 to 60 [yards]. But he's a 4.5 to 4.6 hang time guy, which is what we're looking for.
"This is still about consistency. We just think he's very coachable — he wants to learn every single day. We just like his makeup. We think that the moment is not going to be too big for him. We think he'll be able to bounce back from a bad kick, and that he's got a short memory.
"He comes from a coaching family. His Dad is a high school head coach. [He's] just been around the game a lot. And he's got a terrific arm. I'm just throwing that out there ... a high school quarterback. He can do a lot. Can rugby punt. He's got a lot of things that are definitely pluses in his category."
On how Ian Book has progressed when it comes to pushing the ball downfield and fitting it into tighter windows...
Kelly: "Ian does not have a personality where he's going to get many speeding tickets. He doesn't live on the edge. But I think he certainly is a lot more confident in pushing the ball down the field. We knew that's something that we had to do better. So he worked hard on that in the spring. We continue to have that as part of our offense.
"So I think it's twofold. It's one, having players that can aggressively push the ball down the field on the perimeter, and I think we have those guys this year. And secondly, that he actually feels comfortable doing it. So I think we're better there in both realms, but he's not a guy that's going to always be throwing the ball through traffic. He's going to check it down.
"He's a smart kid. He's going to make the right plays and choices. So I'd say yes in the sense that you're going to see the ball pushed down the field, because I think our skill sets are there, and I think he's more developed."
On Chris Finke going from walk-on player to scholarship player to starter to team captain...
Kelly: "It's a pretty good story. We showed a video this morning when I announced the captains and before I announced them, I showed them the video, which was former captains telling current players of their captainship. Webby (Austin Webster) was the one that announced Chris Finke and he was certainly [one] who earned a scholarship and [then became a] captain, and it was a pretty good moment.
"That doesn't happen very often and Chris has done at an even higher level than Webby did. He's a guy that has done it for two years and is an extremely productive player for us. Chris had close to 70 percent of the votes [to be a captain]. I think in any election, that's a landslide. That tells you a lot about what his teammates thought of him."
On how the team will utilize its unprecedented depth at the defensive end position this season and possibly get freshmen involved...
Kelly: "The four-game buffer helps us in some situations where we can play some guys, get those four games out of them and maybe redshirt them. So there's one way. The second one is can we play them at another position? Maybe that's a thought for some of the guys. We're starting to kind of enter into that category of evaluation.
"Quite frankly, we weren't up until the last day or so. We were still kind of sorting out 'what's our two-deep look like?' But we're getting into that next category of [how] we'll use Isaiah Foskey, for example. Is he a guy that you want to redshirt? Is he going to be here for five years? Can he play tight end? Can he do a lot of different jobs?
"Those are the things that you start to get into in week two and week three. So your question is valid. It makes sense. We're probably a week away from maybe tackling some of those questions."
On how Brock Wright has improved his body during the offseason...
Kelly: "His movement skills [have improved]. I think we felt like he was maybe not as nimble, maybe not as clean in and out of his breaks. We've seen now that he's much sharper in and out. He can get separation. He moves so much better.
"So I think that reworking, if you will, has been much more about a change of direction, explosiveness, cutting, getting in and out of the breaks. He's always had good hands, so that's never been a concern for us. That reworking [his body] has improved his ability to change direction and get some separation. That's really where we've seen his needle go up."