Brian Kelly Notre Dame Transcript: December 15
Click HERE to sign up for an annual subscription to BlueAndGold.com and get your FREE gift code for $99 in Irish apparel and gear!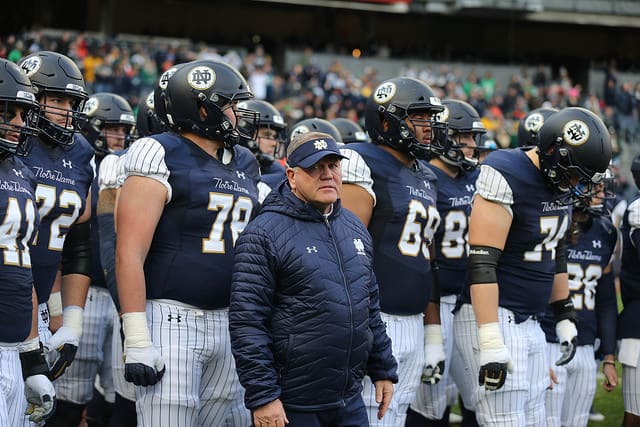 With the Cotton Bowl in the College Football Playoff two weeks away, 12-0 Notre Dame had its media day on Saturday fresh off final exams (Dec. 10-14) while beginning the game-plan for the 13-0 Clemson Tigers.

The Irish held two practices on Dec. 8-9, and had two abbreviated hour-long sessions earlier this week that were more a form of spring practice, per head coach Brian Kelly. The serious preparation for Clemson begins this weekend through the end of next week, beginning with what Kelly said will be a 60-play scrimmage later this Saturday afternoon.
Here was Kelly's question-and-answer session with media prior to the scrimmage.
Question: This is the first experience with your team (in the playoff) …You were part of the BCS Championship in 2012 with Tommy (Rees). Have you had talks with Tommy (Rees) on helping the team this year?
Brian Kelly: As a staff we just talked about making sure we get an opportunity to prepare them for the moment. It's much larger than a traditional game. It's not just been Tommy and I; it's been the whole staff. The preparation obviously is important, and then the game itself. It's a big atmosphere, there's a lot going on prior to the game. There's a lot of media and buzz — just making sure that our guys are in the right place going into the game.
Q: These are the type of games that help define legacies. Do you allow yourself to think about your legacy if you win this game and win a national championship?
BK: No. Sounds really good and all. This is really a focused group on wanting to win a national championship, and it's been that way since we've started this journey in January. Beat Clemson. Each and every week during the year we didn't really talk about, 'Hey, let's beat Michigan and what that does for us.' It got us to 1-0. There really hasn't been much talk.
Certainly they understand that they've got to stay focused on their process. They've listened to everybody talk about how they are underdogs. There's a little bit of that, but this is really about keeping this going and winning a football game more so than any of the big picture stuff.
Q: How would you describe the relationship between Tommy Rees and Ian Book?
BK: What is in essence a coach-player relationship? It starts with trust as it relates to the well-being both on the field and off the field. I think they've got a great trust in each other that he's going to be there for him in good times and bad times, both on and off the field. I think there's a great amount of trust as it relates to on the field with the position itself and the roller-coaster ride of being the quarterback at Notre Dame. Tommy's taken that trip. Easily identifiable is that kind of relationship.
But I would say that at its core there's a great amount of trust in both the relationship that's been built on and off the field. It just allows for a complete buy-in to everything that's being done.
Q: There's already been talk about maybe we should blow it up (College Football Playoff) to eight teams.
BK: We have a way of doing that when Notre Dame is involved.
Q: Is this really going to decide a true national champion or do you think there should be other people involved?
BK: Oh, it's going to decide a true national champion, there's no question about that. We could go back 20 years or so when there were split national champions. And you go back further and some claim to be national champions. We've claimed national championships where others have claimed them as well. I don't buy the notion that it doesn't clearly define who the national champion is.
Can you open up the field to more is really the question here. I think that the narrative has been one of, 'Well, we've just entered into this agreement and we've just started this process.' I think we've journeyed into it a little bit deeper now that I think there's probably, from a commissioner's standpoint, an appetite to begin dialogue (to expand). But I'm just standing here as the football coach at Notre Dame. I don't have any inside information to share with you. I can tell you there is an appetite for conversation about it. How that all figures into the grand scheme of things, who really knows?
I sure am one that would register a vote on expanding the playoff, and where that takes us I'm sure they'll kind of figure that out.
Q: Why do you say you would like it expanded?
BK: Certainly you can see that there are five Power 5 conferences, and then there's the independent ranks. If there's going to be expansion of any kind, we would prefer that to include eight. That gives the Power 5s obviously their champions and opens up much more opportunities for at-large (bids).
We're forcing out conferences that are in this CFP, and that puts a lot of pressure on us (Notre Dame) every year, relative to our schedule and what we need to do.
Q: What have you seen on film about Clemson, and what jumps out at you?
BK: Starting on offense, the running back (Travis) Etienne, I think he's as good a running back we've seen since Georgia last year — that kind of talent. The quarterback is really good. Great arm talent, he's tall and can see the field. I think the receiving corps is on par with a USC receiving corps. That's a pretty dynamic offensive set.
Defensively, you obviously start with the front. You probably have three guys there that could be top-50-60 players in all of college football … Comparing them maybe to North Carolina State last year in some fashion, LSU, that kind of capability on the defensive line. It's a really, really formidable group. Just a really talented football team.
More than anything else, it's a team that's been [in the playoff] four times. They know how to win, they've been there before, they play with a lot of confidence.
Q: You can't control that you have no playoff experience and this is (Clemson's) sixth game (in playoffs) as seniors. How do you bridge that gap to make sure that when you take the field on Dec. 29 that you're ready?
BK: I don't know that there's really any magic bullet that you have to get that other than we have an experienced football team. There are a lot of veterans that have played, logged a lot of miles, played in some big game — but we're not going to be able to duplicate four playoff games. The things we've been really good at is staying in the moment. We treated each game as they have come, and we will do the same thing here.
Now, we'll have to get them ready for the moment of the game, and obviously it being a playoff game there will be a lot of buzz around it … But when it kicks off, really playing it as one. They have been really good at focusing in on the game itself and playing one play at a time. Our strength is going to be in being who we are. If we try to be somebody else, that's not going to work very well for us. Our strength will be being consistent like we have been all year.
Q: Is that something you can teach these kids or is that a natural ability you look for when you are recruiting?
BK: Some of it is in the DNA of who we recruit, that they are really focused. But most of it is traits that are built over time. We have to do a really good job of demanding that from our players, especially here. They're hearing about it from the very start of the season of how it's make or break every game. Notre Dame, you're playing for a national championship. There are no conference championships. One loss could put you in a difficult position for getting to your goal. They hear a lot of that.
We have to do a really good job of helping them stay in the moment, giving them the mental skills necessary to avoid all that noise. Some are better at it than others, and those that are not strong at it we really work hard at helping them have those tools.
Q: Are you seeing the same Jafar Armstrong or maybe better version you saw in September?
BK: He's healthy, finally. He was running with no arch really in that (injured) foot. No push, no arch, no explosion. He's back to where he was. He started off really well for us, and then had the knee … came back from and reinjured… A difficult time shaking that off. Every time it seemed that we turned the corner, something would put him back.
...We'll have about a 60-play full live scrimmage today. He will get a ton of work today, and we think he's back to where he was earlier in the season.
Q: What have you seen from the nickel position during this preparation?
BK: We haven't really done a lot in terms of Clemson. We treated the first couple of practices like spring ball, a lot of technique work. The next two were really about situations but not Clemson situations, just football situations, third-and-long, red zone… so we got some nickel work.
We like what Nick Coleman has done. He closed the season really well. He's playing with a lot of confidence …he's really claimed that position by virtue of his play in November.
Q: What have you seen as the biggest evolutionary factors offensively in college football?
BK: The mobility of the quarterback has a lot to do with it. Five, six years ago when we were recruiting quarterbacks they were either pro-style quarterbacks or athletic-type quarterbacks. I don't know if that even exists anymore, really. They all have to extend, they all have to keep plays alive. How many times is Kyler Murray really dropping back and making a play from a pocket?
If you just look at Jalen Hurts and what he did against Georgia, he made his plays outside the pocket. You start with the quarterback, the quarterback's athleticism, and then I just think the schemes have now spread defenses so thin and created space on the field. You're not in tight formations, you're spreading the field. Offensive creativity would be one, but that would be way down the list. It would start with the quarterback and his athleticism.
Q: You and Clemson both made quarterback changes in season.
BK: Each one is different. We looked at not only wins and losses but I looked at in particular how it's affecting our entire football team. We were playing too many snaps on defense. You're looking at your entire operation and how it can best complement what you do. We keep the points down on defense. We're not an attacking, man-to-man, blitz you, get-the-ball out of your hands. We keep it in front of us. Our efficiency is high, but we had to get our football team playing better, more efficient, and we weren't complementing our defense. This had a lot to do with complementing.
In other instances you're just looking for explosiveness on offense. Each one is different a little bit. Ours had a lot to do with efficiency on offense and complementing what we do defensively.
Q: How would you assess the performance of your defensive line this year, and how would you compare it to the unit you had in 2012?
BK: I think our defensive line was certainly a large part of our success this year as a program and as a unit. What does that mean? We were able to get pressure on the quarterback, which obviously is paramount to success, but we were really good against the run, and it starts up front. We were able to play a lot of players, and in the games that matter most, that unit played well.
How does it compare to 2012? We were a two-gap, 3-4 defense. You had a 340-pound nose tackle (Louis Nix) two gap, so really a different group. The only similarities there would be that unit was led by one really dynamic player in Manti Te'o that was elite. I don't know if we had that one dynamic player (in 2018). We had a lot of really, really good players.
Q: Did you look back to the 2015 matchup with Clemson in terms of playing in the playoff/
BK: We looked at the film. One thing that is similar is they have both coordinators back. But there's not many players that were on that team, from either team, that are still there. Our players know they can play and beat Clemson. I think you're taking most of your analysis and breakdown from this season in terms of what they do and what we do.
Q: Why is Chip Long a good play-caller?
BK: Some of the components to being a really good play-caller — you have to have philosophically a foundation as to how you want the game to look. It starts with physicality over finesse. Essentially, he knows that we have to start with the tight end on the field, somebody that can help us in the run game, and our offense will start with the run game. And then everything can be built off of that.
A talented play-caller has a philosophy that is based upon either I'm going to spread this out and we're going to be much more creative and finesse, or we're going to be physical. And he has an understanding of that.
Then he's really good, I think, of being patient and probing. He will stick to what the plan is. I've seen callers that can be affected by the crowd, that hear the boos or hear the impatience. He sticks with what the game plan is and is not moved by it. Those are some really important tenets to begin with.
Q: Is that something you learn as a play-caller or is that something you get it or you don't?
BK: Keep in mind, calling plays from the sidelines versus calling them from the box is really much more of an art than it is a science. You have to have a great feel for the game to call from the sidelines. There are better play-callers that do it better from the box because they can see more: they can see the sideline, they can see if that's a 9-technique or it's a 7 — Chip can't see the boundary. But he can feel what's going on in the game.
You have to have a feel and a sense for what's going on, and that's kind of crafting what you're thinking about as the game kind of unfolds.
Q: Why are you and Chip a good match?
BK: Because we come from similar roots in terms of play-calling and how we operate. I've always called it from the sideline, I've got a similar feel…It's a system of play-calling that is very similar and that helps.
Q: How much does Dexter Williams' big-play ability allow you to be that patient, knowing that at any time he might hit a home run?
BK: It's huge. The balance is what you're looking for, and to have a guy that maybe you got zero (yards), zero — and then you can run that same play and can hit big is important in play-calling. If you know that you have no chance, that certainly is going to get you looking in another direction. There's no question he's made a huge impact in the play-calling ability.
Q: What is waiting for the players when they get to that moment that Saturday (Dec. 29)?
BK: It's the lead-up. It's not necessarily just that moment; it's just all that goes with it preparing them so that when they do see it they understand what to be ready for more than anything else. It's just getting them prepared for that moment, making sure they're aware of it.
We're going to practice four times inside AT&T (Stadium). That Jumbotron is 60 yards long. Just getting used to kind of the environment is really helpful. Being aware of it, getting them in tune with what it's going to be like and talking it out is most important.
Q: In the last six years, where would you say you've grown most as a coach?
BK: Man, there are so many… This is 28, 29 years. I'm better at player relationships, staff evaluation, recruiting… all of those things. When you're in especially a job like Notre Dame, you're required to sharpen your skills every year, and if you don't you're going to be exposed. In all those areas you have to be better. You have to challenge yourself to be better at your profession each and every year. I don't know that there's an area where I haven't worked to be better at. The competition is so keen every year, there's great young coaches. I don't know that it's any different than your business.
… I have to be on top of things every year. I don't think you get to this position and go, 'Hey, I think I figured it all out.' I haven't. You're always trying to stay on top of how do you deal with Generation Z's over millennials. All of those things. You have to stay in tune with all the things that is required of a head football coach
Q: What goes into that evaluation process?
BK: Don't bury your head in the sand. Be in the training room. Be in the locker room. Be present in your environment in which your players are readily available to be in conversation with, because that's your group. That's probably the most important group to be around. In other areas where you continue to grow are conversations with as many coaches as possible in terms of what they're doing with their staffs, recruiting — you're always reaching out in those other areas outside of players as well.
Being present and available, and being around your guys — you can't be gone for a month. It's hard to do. I now fly out and fly back. I used to be gone three or four days recruiting. Now, it's I'm flying out and flying back, because you feel like you lose the heartbeat of what's going on if you're gone for two or three days.
Q: If recruiting rankings were gospel, Notre Dame would be top-10-15 right now, not top 3. Are you doing a better job identifying players or a better job developing players when they get here?
BK: I would say that there's at the core of it, you have to identify the players that will stay here that you can develop. It starts with identifying those players that fit Notre Dame and then will be here over a period of time that allows them to grow and develop. So when you put them on the field, they've been here and they've grown and developed into mature young men. You have to start there.
Q: How confident were you to hire Tommy Rees?
BK: He turned down my first offer to come here. He stayed with the San Diego Chargers. He went to Northwestern first, and then he went to the Chargers. He felt like he needed more time away from Notre Dame, and I think it was the right decision. He accepted the job when he felt like he was ready to come back to Notre Dame. In retrospect, I think he made the right decision. I think he needed a little more time away from Notre Dame.
He's done more on-the-job training here than he's done anywhere else, but I was willing to do that with him because of the respect I have of him as a person and what I thought of him in terms of what he could be as a coach. I think he knew when it was the right time to come back.