Brian Kelly Named Finalist For The Dodd Trophy
Click HERE to sign up for an annual subscription to BlueAndGold.com and get your FREE gift code for $99 in Irish apparel and gear!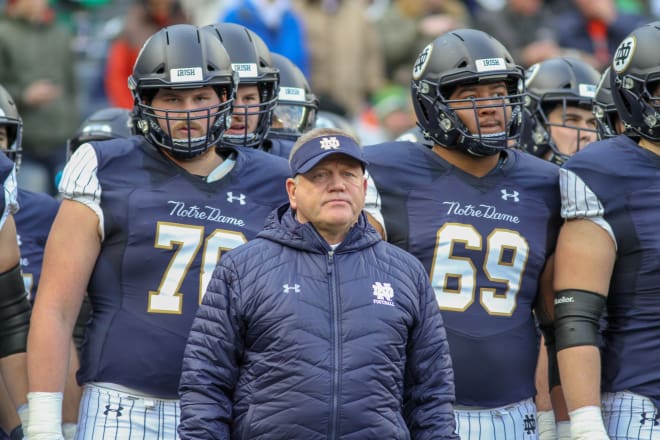 Finalists for The Dodd Trophy, honoring the nation's top head coach, were announced Wednesday by officials from the Bobby Dodd Coach of the Year Foundation and Chick-fil-A Peach Bowl, and Notre Dame's Brian Kelly was among the seven selected.
Kelly is joined by Dino Babers (Syracuse), Pat Fitzgerald (Northwestern), Lincoln Riley (Oklahoma), Nick Saban (Alabama), Kirby Smart (Georgia) and Dabo Swinney (Clemson) as the seven finalists for the prestigious award.
"All of these finalists truly exemplify the type of leadership that Bobby Dodd valued and are noteworthy candidates to join the esteemed group of former Dodd Trophy recipients," said Jim Terry, chairman of the Bobby Dodd Coach of the Year Foundation. "We're honored to have such a renowned list of finalists who truly embody Coach Dodd's spirit, both on and off the field."
"This college football season was highlighted by outstanding coaching performances that greatly impacted the course of the season," said Gary Stokan, Peach Bowl, Inc. CEO & president. "These seven coaches have distinguished themselves as finalists for this prestigious award, not only for having successful football seasons, but also for their efforts within their communities and commitment to empower their student athletes to succeed in the classroom as well."
Kelly led Notre Dame to a perfect 12-0 regular season with three wins over teams currently in the College Football Playoff committee's top 25 —No. 7 Michigan (24-17), No. 20 Syracuse (36-3) and No. 22 Northwestern (31-21). It is the second perfect regular season for Kelly at Notre Dame (2012) and third overall at the FBS level (2009 at Cincinnati).
The Irish will take on No. 2 Clemson and Swinney in the Goodyear Cotton Bowl, which will be played Dec. 29 at AT&T Stadium in Arlington, Texas (4 p.m. ET).
The winner of the award will be announced in Atlanta during the week of the Chick-fil-A Peach Bowl.