Brian Kelly Named 2018 Associated Press Coach Of The Year
Click HERE to sign up for an annual subscription to BlueAndGold.com and get your FREE gift code for $99 in Irish apparel and gear!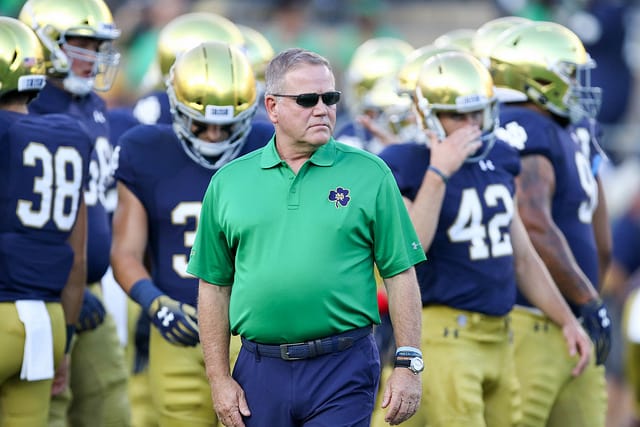 The hardware keeps piling in for ninth-year Notre Dame head coach Brian Kelly, this year's recipient of the Associated Press Coach of the Year honor, announced Monday afternoon.

It is the second time since the award's inception in 1998 that Kelly has been bestowed the honor, having also won it in 2012 after his first 12-0 regular season with the Fighting Irish. He joins Nick Saban — who won the AP award in 2003 at LSU and 2008 at Alabama — and TCU's Gary Patterson (2009 and 2014) as the lone multiple recipients of the honor.
From the rubble of a 4-8 finish in 2016, Kelly has taken the Fighting Irish to a 12-0 regular season and a berth into the College Football Playoff, the first for the school in the five-year history of the format.
Kelly now also has the unique distinction of being the lone Notre Dame head coach to win any coach of the year award twice in his career with the Fighting Irish.
That actually occurred earlier this month when Home Depot selected him for the honor Dec. 5. It was the third time (2009 at Cincinnati, and 2012 and 2018 at Notre Dame) he won it from Home Depot — no one else has done it twice since it was first presented in 1994 — and he is a finalist on several other ballots this year: Eddie Robinson Coach of the Year (announced Jan. 5), The Dodd Trophy (announced during Peach Bowl week) and George Munger Collegiate Coach of the Year Award (announced Dec. 28).
Such honors, he said, are more a reflection on the team.
"It's like our players … if they came in here and said, 'I'm only in it to get the Heisman,' we would be like, 'OK, well, what about team awards?'" Kelly said. "I'm more interested in our guys winning a national championship."
In addition, Kelly this year was named the recipient of the Stallings Award sponsored by Dr. Pepper. The Stallings Award is presented annually to an exceptional Division I football coach that celebrates humanitarian contributions along with on-field achievements. Kelly and his wife, Paqui, founded the Kelly Cares Foundation and since 2008 they have raised more than $4.6 million for causes locally, nationally and globally.
Previous Notre Dame coach of the year awards went to first-year mentors Frank Leahy in 1941 (American Football Coaches Association), Ara Parseghian in 1964 (Football Writers Association of America, shared by Arkansas' Frank Broyles), Tyrone Willingham in 2002 (Munger and Home Depot) and Charlie Weis in 2005 (Robinson).
In his third season (1988) while leading the Irish to their most recent national title, Lou Holtz earned the honor from the FWAA, in addition to other outlets such as Sporting News, UPI, CBS Sports and Football News.