Brian Kelly: 'I'm Not Going To Second Guess What We Do'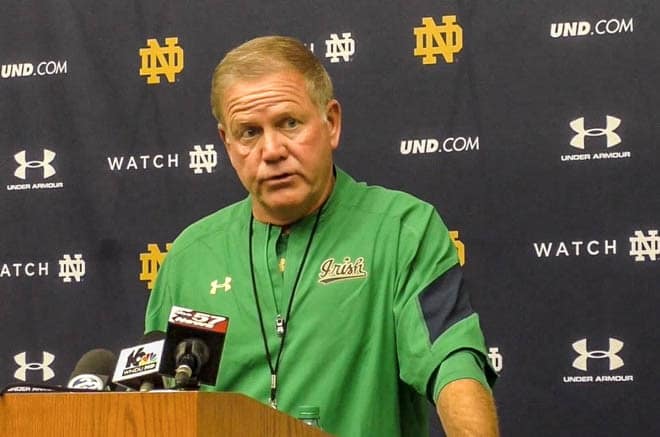 Through the first five weeks of the 2016 season, Notre Dame head coach Brian Kelly had to answer incessant questions about a maligned Fighting Irish defense. The avalanche of problems finally resulted in the unprecedented move at the school of firing the defensive coordinator, Brian VanGorder, after the fourth game.
The fans, alumni and media don't have VanGorder to kick around anymore … but after Saturday's 10-3 loss at North Carolina State, a game played in a quagmire squared, Kelly became the easy topic of scorn among Sunday morning quarterbacks.
On six occasions Notre Dame had a first down at or inside the North Carolina State 25-yard line, but it managed only three points. In those situations, the running game was a complete non-factor. Meanwhile, quarterback DeShone Kizer completed 1 of 13 passes for 11 yards, was sacked three times and also tossed an interception on a throw toward the end zone on a day when wind, rain and ultra-slick conditions probably mandated a more conservative approach.
When asked if he had any misgivings about his plan of attack against the Wolfpack, Kelly maintained his public persona of composure.
"It's easy to look back on things," he said. "We should have did that … could have done this. I've been doing it a long time and probably got asked that question after every loss. Yeah, I want to run the ball more effectively in those situations, but I'm not going to second guess what we do, either. I think if we start doing that, then we're going down the wrong tracks.
"We're going to win and lose together and I think the most important thing is when we get our opportunities, we can't have self-inflicted wounds. We had a number of those on Saturday."
Among them were numerous struggles with the center/quarterback snap exchange in the shotgun, which was equally prevalent with North Carolina State. The Wolfpack had six fumbles (losing two), while Notre Dame had four (also losing two). Using junior center Sam Mustipher as a scapegoat would be unfair.
"Snapping the football was difficult to say the least," Kelly said. "He was playing in a very difficult situation."
Which prompted the inquiry: Why not have the quarterback take a direct snap from the center?
"We ran a lot of direct snap in pregame," Kelly answered. "I don't know if they felt even comfortable with that. We had a hard time with that. We're a shotgun team. Most of that is built into what we're doing.
"If we were going to have any struggles, we were going to do what we do. In terms of altering the game plan, you have specific runs and passes that you're going to lean on within the game plan."
The Notre Dame offense entered the North Carolina State averaging about 40 points and 500 yards per game, but truly did get caught in the eye of the storm in Raleigh. In all four defeats this season, it had a chance at the end to win or tie the game, but was unable to finish the job.
"It has nothing to do with scheme, it has nothing to do with coaching," Kelly said of the offense. "… It's really just about having that demeanor and having that toughness and having that will that regardless of the circumstances, we're going to get it done.
"The players are fine. The coaching is fine. There's just a fine line between winning and losing. We're not making or executing as a unit — not any one person, but as a group we're just not executing effectively in these closing minutes to win football games.
"We just lack that ability right now, that maturity, that toughness, that thing you can't put your finger on — that 'it' — we've got to have that late in the games. We haven't had that yet."
Much of the Notre Dame fan base had developed a torch-and-pitchfork mentality with VanGorder mainly because his system was paralysis by analysis and sucked the joy out of playing. Kelly admitted that the offense might be undergoing something a little similar right now.
"Maybe we have a little too much going on as well," Kelly acknowledged about the offense. "We've got to lean some things out to get them playing faster and freer, and not thinking too much. … Going back to basics and being better at what you do than your opponent.
"You do that, you have a good chance of winning."

Now that the Irish are 2-4 and VanGorder no longer is with the operation, the natural target is going to be Kelly and the offense because the defense has become a bit more stabilized under Kelly's leadership/implementation plus interim defensive coordinator Greg Hudson's energy.
"Honestly, it doesn't affect me," Kelly said of the outside criticism. "I have to make sure it doesn't affect the assistant coaches, it doesn't affect the players. I'm sure they hear a little bit of it, so it's really my job to make sure that we work on getting our team better each and every week.
"Everybody has struggles. Everybody goes through some tough times. You're going to have some adversity. And if you can't [handle] adversity, then how strong are you really? I'm looking for guys that are strong, I'm looking for guys that bounce back higher when there is some adversity. I'm not looking for guys that are going to crumble at the first sign of a little bit of adversity.
"I'm looking for guys that want to be a solution and not worry about what other people think or say."
News & Notes
• Although the awful field conditions made it difficult for both offenses to function, Kelly said he was pleased with the Irish defense based on gap responsibilities, following assignments, proper alignment and playing within its structure in an enthusiastic, energetic manner.
"Our guys are doing right things defensively," said Kelly, who quantified that the improvement was about 65 percent from mentality and 35 percent from scheme.
• On the fourth-quarter blocked punt that was returned for a touchdown which provided North Carolina State's 10-3 margin of victory, Kelly said punter Tyler Newsome may have "over-strided" a bit and some ground was given up, but he also said the block by 6-6 Pharoah McKever was "unbelievable" because of how the ball traveled exactly to the one spot where McKever raised his hand.
"It's almost inconceivable that we could do that," Kelly said. "If we tried it 50 times, I don't know if we could do it again."
• Senior running back Tarean Folston was held out for the second straight week while recovering from an ankle injury. Kelly said the conditions in Raleigh didn't lend themselves to Folston returning.
• Sophomore safety Nicco Fertitta has provided reliability and toughness while spelling freshman Devin Studstill at safety.
"He knows what to do and he doesn't put himself in a position where he can't succeed," Kelly said of the 5-8½, 185-pound Fertitta. "And he's a tough kid."
• The weather in Raleigh today is sunny and in the 60s, which likely prompts frustration of why the game couldn't have been moved to Sunday. The ACC had the main control of the situation, per Kelly.
"Once they decided to kick it off, we were going to find a way to finish it," Kelly said.
----
• Talk about it inside Rockne's Roundtable
• Subscribe to our podcast on iTunes
• Learn more about our print and digital publication, Blue & Gold Illustrated.
• Follow us on Twitter: @BGINews, @BGI_LouSomogyi, @BGI_CoachD,
@BGI_MattJones, @BGI_DMcKinney and @BGI_CoreyBodden.
• Like us on Facebook