Bitter Pill: Irish Falter In Second Half Against Stanford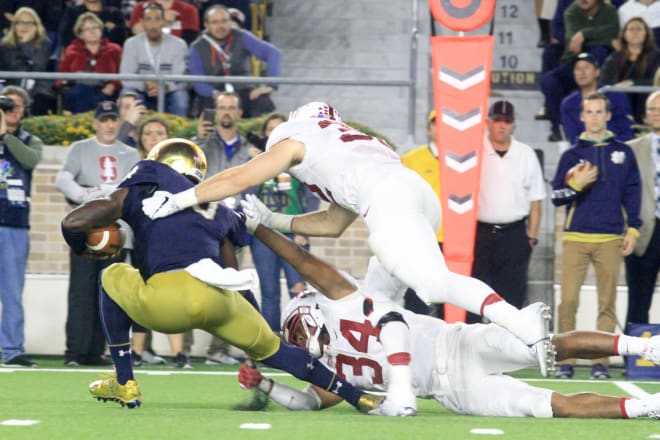 DeShone Kizer let out a yell, threw his mouthpiece and fell to his knees.
The Notre Dame junior quarterback couldn't bring his team back against Stanford, and his facial expression summed up another frustrating close loss for the Irish.
The Cardinal scored all its points after halftime and rallied to beat the Irish 17-10 at Notre Dame Stadium, a defeat that moved head coach Brian Kelly's team to 2-5 this season.
"This is a bitter pill to swallow, certainly," Kelly said.
The preseason top-10 Irish suffered another loss decided by seven points of less, more evidence of the Irish's inability to finish.
"I love those kids in there," Kelly said. "They had great energy. They wanted to win. They did everything that they knew in terms of what they felt like they could do to win, and they just came up a little short again.
"It's one of those things where you just — you've got to keep fighting, and we'll get out on the other end of it. It's a tough spot we're in right now, but they're committed. Coaches are committed, and we'll find a way. We'll get through this rough spot."
The Irish had a 10-0 halftime lead, but self-destructed in the third quarter and trailed 17-10 when Kizer and the offense got the ball back with 3:44 remaining in the game.
Kizer — who had been pulled in favor of his backup, senior Malik Zaire — was reinserted into the game for the final series. He led Notre Dame 61 yards down to the 8-yard line before a nightmare three plays derailed the comeback attempt.
He was sacked on second-and-four. He then spiked the ball to stop the clock with 12 seconds left, and on the final play of the game, was again pressured and tackled for a three-yard gain. His attempt to keep the play alive resulted in a fumble, but it didn't matter because the clock expired.
Stanford held Notre Dame to just 307 total yards of offense and just 120 in the second half. The Irish finished with 153 rushing yards on 35 carries, while Kizer was 14-of-26 passing for 154 yards. He threw back-to-back interceptions to begin the second half.
"Defensively, we won the game," Stanford head coach David Shaw said. "[Defensive coordinator] Lance Anderson did a phenomenal job, the defensive coaching staff, getting turnovers, standing up when we needed them to, pressuring the quarterback pretty much more so than we have outside of one other game this year."
Notre Dame media relations did not make Kizer available for an interview after the game.
Kizer's eight-yard touchdown run with 1:57 left in the first quarter gave Notre Dame a 7-0 lead. Sophomore kicker Justin Yoon added a field goal with 6:49 remaining in the half to extend the margin to 10-0.
Stanford was much improved in the second half. Sophomore cornerback Quenton Meeks returned the first Kizer interception 50 yards for a touchdown on the fourth play of the half to cut the lead to 10-7. On the following drive, Kizer drove Notre Dame to the Stanford 38 before throwing an interception to fifth-year senior safety Dallas Lloyd on fourth-and-seven.
With 1:17 left in the third quarter, a punt by Stanford sophomore Jake Bailey pinned Notre Dame at its own 5-yard line. On the first play of the drive, Zaire couldn't handle a bad snap by junior center Sam Mustipher, which went through the end zone for a safety to make it 10-9 Notre Dame.
Stanford took the lead with 10:38 left in the game when sophomore wide receiver JJ Arcega-Whiteside recovered sophomore running back Bryce Love's goal-line fumble in the end zone, capping an 11-play, 67-yard drive.
"We orobably wore down a little bit," Kelly said. "Probably on the field a little bit too much there late, and they found a little bit of success on some toss sweeps that were getting outside and some C gap entries."
It was perhaps Notre Dame's best defensive effort of the season. The Irish limited the Cardinal offense to just 296 total yards (176 rushing and 120 passing) and eight points, an encouraging performance in Kelly's eyes.
"I thought they were solid," Kelly said of the defense, which has allowed just one touchdown the past two games. "We're playing a lot of freshmen back there, so we don't want to expose them in every scenario. They're learning a lot as we go.
"We want to minimize big plays, and I think we've done a really good job of keeping the points down. The thing that I wanted to do when we made the change was keep the points down and limit the big plays.
"Now, you can't be everything that you want to be defensively with just those two things, but you can keep your football team in what I felt was a good position to win games, and we just haven't been able to do the things that I expected to do to win games."
Stanford's quarterbacks were unspectacular against Notre Dame. Senior Ryan Burns started and finished 10-of-19 passing for 120 yards. Junior Keller Chryst also played, throwing just one pass (an incompletion).
The Cardinal, which was missing All-American junior running back Christian McCaffrey (undisclosed injury), leaned heavily on Love. The 5-10, 187-pounder finished with 129 yards on 23 carries.
"He's an every-down back," Shaw said of Love. "He's a physical runner; he's an explosive runner. He's not a small back by any stretch of the imagination. You see how he runs through tackles, he's physical; he's strong.
"For a guy who's under six-foot, he can push the pile and drive his legs. I'm not surprised at all by the yardage, and he probably could have had a few more."
Notre Dame now heads into a bye week before hosting Miami Oct. 29.
"We have to keep the same mindset because we obviously know we can do it," senior left tackle Mike McGlinchey said. "We're there, we're always in the right spots at certain points in the game. It's just about executing when the time's needed.
"We're obviously all capable. In some ways it's a learning experience for guys and understanding what is important and what's not and how to focus when push comes to shove in the middle of a football game."