Big-Time 2021 OL Landon Tengwall Ready To See Notre Dame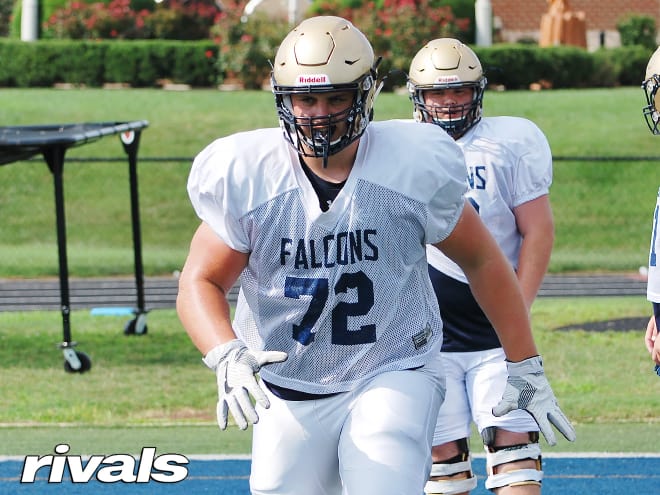 Another name on the long list of prospects scheduled to visit Notre Dame over the next month is Landon Tengwall, a 2021 offensive lineman from Olney (Md.) Good Counsel.
The 6-foot-6, 300 pound sophomore said he's looking forward to getting a closer look at Notre Dame when he visits this weekend.
"I'm really excited to learn about Notre Dame and their culture," Tengwall said. "I don't know too much about them, so it should be a very educational trip."
Even though Tengwall admittedly doesn't know a ton about the Irish, the Maryland talent said he's had his eye on the Notre Dame program for a while.
"I've watched Notre Dame for a couple years and it's a school I've always been interested in," Tengwall told Blue & Gold Illustrated. "Also multiple past players on my high school team go there and I've only heard great things so I knew I needed to check it out."
Those players include 2019 Irish receiver signee Cam Hart and former starting center Sam Mustipher.
Tengwall said he's also heard positive things regarding Notre Dame from members of the Irish coaching staff, particularly head coach Brian Kelly and offensive line coach Jeff Quinn.
"I haven't gotten a chance to meet Coach Kelly yet but I've heard great things," Tengwall said. "I've met Coach Quinn and couple times and chatted with him. He's an amazing guy, I love his attitude and his approach. That's definitely someone I'd love to be coached by."
Tengwall said he's looking forward to spending more time with Quinn this weekend, but is most excited about just getting an overall feel for the Irish program.
"I'm looking forward to seeing the Notre Dame campus," Tengwall said. "You have to fall in love with the place first. But then, of course the coaches. I can't wait to see how they run practice and how they get after it."
It's early in the process, but Tengwall already has an elite offer list.
Tengwall holds offers from Notre Dame, Alabama, Auburn, Florida, Florida State, Georgia, LSU, Michigan, Ohio State, Penn State and several others.
As his visits begin and the evaluation process continues, Tengwall said he'll have some specific factors he's looking for in a future home.
"I have a list of things I'm looking for in a school but a couple big things I look for are, reliability, coaches that get after it every day and coaches that love their players," Tengwall said. "I can't play for a coach that doesn't truly care for me. So that's huge for me."