Asmar Bilal Seeing A Larger Role In Notre Dame's Defense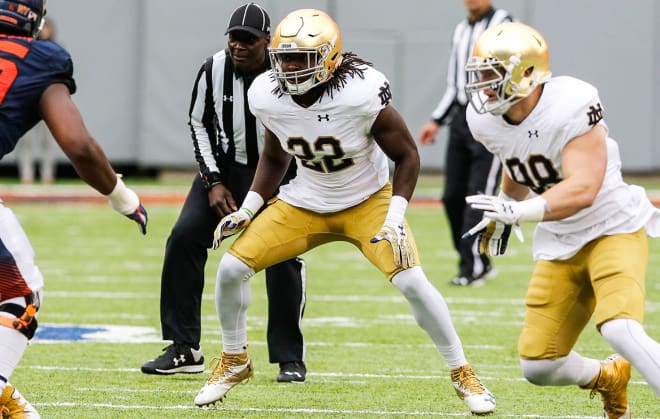 Notre Dame sophomore linebacker Asmar Bilal has been described by teammates as an athletic freak, not unlike former Irish star Jaylon Smith.
The former four-star recruit didn't quite know what to say when reporters relayed that comparison to him Wednesday.
"I don't even know what to say to that," Bilal said. "That's great though that they think that."
Though still a backup on Notre Dame's slowly improving defense, Bilal has shown flashes of his potential. Notre Dame junior linebacker Nyles Morgan called Bilal a "baller," a player that can go as far as he wants to.
"Asmar's really come along," Morgan said. "He's hung in there, he's getting better and better."
Bilal's role in Notre Dame's defense has grown in recent weeks. After logging just 11 snaps against Texas and 12 against Nevada, he did not see the field on defense in losses to Michigan State and Duke.
The Indianapolis native was one of the main players that Notre Dame head coach Brian Kelly wanted to see more of after the firing of defensive coordinator Brian VanGorder. Kelly followed through, and Bilal played a career-high 34 snaps against Syracuse and 23 against NC State.
"It's kind of been the same," Bilal said. "I've been playing a little bit more in the games. I guess that'd be a slight change for me, getting more reps on the field."
The 6-foot-2, 230-pound Bilal had one tackle against Texas and three against Nevada. He had an uptick in production with the increased reps, making four tackles against Syracuse and five against NC State.
Bilal cut his teeth on the scout team last year while redshirting, receiving the team's defensive scout team player of the year award. He worked at the Will linebacker spot — the same position he's playing now behind sophomore Te'von Coney — while on scout team.
"I'm familiar with the defense so it's easier in that sense," Bilal said. "I know the people, so it's not like I'm shy to things as much. It just flows better, it's more natural."
Bringing Bilal along has been part of Morgan's job description.
"He just came in like a fresh bird, eyes wide open," Morgan said of Bilal. "I got him settled down, made sure he knew his job. From there, he expanded to know my job and the D-line's job. He's really grown. Asmar's really come along. He's hung in there, he's getting better and better.
"He has all the attributes to be a great player. Probably put a few more pounds on here and there (laughs). He can do it all. Asmar can go very far, the way he's developing and growing. He's really doing a nice job."