Analysis: Five who could thrive this spring in ND's offensive reboot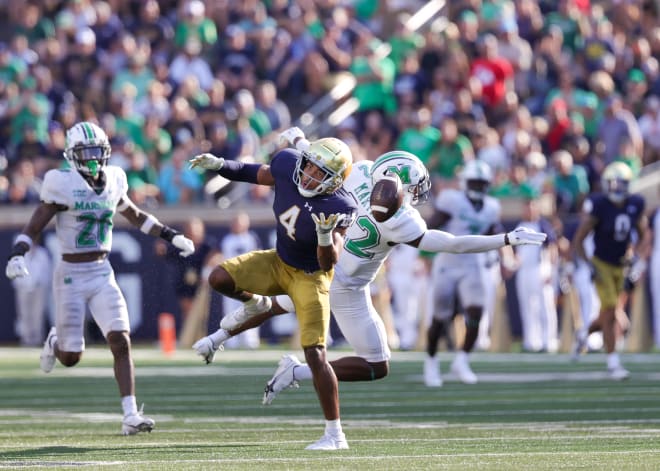 The last time Notre Dame won a national championship in football, the Irish went without a designated quarterbacks coach.
Instead it was a collaboration of sorts of mainly running backs coach/offensive coordinator Jim Strong and head coach Lou Holtz during that 1988 title run. Wide receivers coach Pete Cordelli switched over to coach QBs for the 1989-90 seasons, not that Holtz completely backed away.
When Gino Guidulgi is finally formally introduced, he'll be the 13th man since Cordelli to hold the job, with Peter Vaas doing two tours of duty (1991 and 2005-06) and two generations of Mike Sanfords (Senior in 1997-98 and Junior in 2015-16) each getting a two-year run at it.
In the post-Tommy Rees/Harry Hiestand offensive makeover that includes new offensive coordinator Gerad Parker putting together his own playbook and a yet-to-be hired offensive line coach, the 39-year-old Guidugli is the wild card.
Because of how important the quarterback position is in today's football. Because of who Notre Dame's No. 1 quarterback is likely to be. And because Guidugli's passing-game chops will be welcome in Parker's collaborative approach to running Notre Dame's evolving offense.
Meanwhile, Rees will be charged with making Alabama head coach Nick Saban smile with his own offensive concepts, while Hiestand soaks in retirement.
Sometimes with change comes opportunity for players to alter their career trajectories, both established and already ascending, as well as those buried on the depth chart and perhaps even contemplating transfer-portal land.
Here are five to watch this spring who could benefit from the offensive reboot:
Lorenzo Styles, junior, wide receiver
With 30 catches for 340 yards and a TD as a sophomore in 2022, the 6-1, 195-pounder Pickerington, Ohio, product is Notre Dame's leading returning receiver. Yet he played much of the season like a guy in need of a change of scenery.
In ND's final eight games of the season, Styles accumulated more than two catches only once. And in three of the last five he had zero, including the 45-38 scorefest with South Carolina in the Gator Bowl in which the Irish amassed 558 total yards without him.
Drops were a big problem all season, often on passes that weren't even contested.
There are more healthy bodies now to compete for playing time in the position group — 10 in all with five newcomers. Four of the five newbies are on campus this spring. But Styles still has the potential to be WR1 and a much more consistent and even dominant version of his 2022 self.
Perhaps a reset in how he's used, some fresh sets of eyes and having an elite veteran QB in Sam Hartman can coax the best of Styles out of him.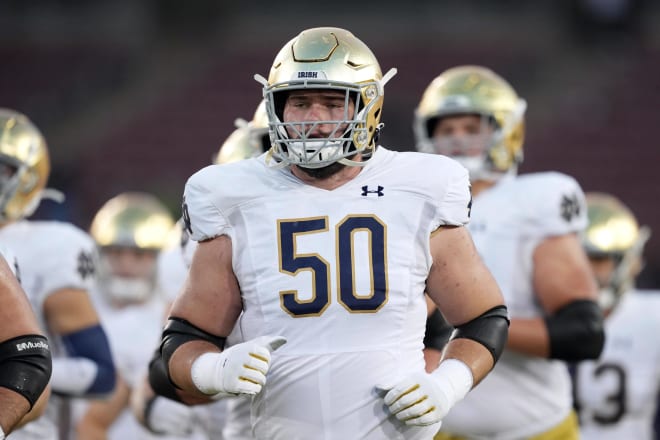 Rocco Spindler, junior, offensive guard
One of three Rivals top 100 prospects to sign with Notre Dame in the 2021 cycle (Styles and offensive tackle Blake Fisher were the others), the 6-5, 315-pound Clarkston, Mich., product played 16 offensive snaps as a freshman in 2021 and three last season.
There are vacancies at both offensive guard spots after Jarrett Patterson and Josh Lugg moved on to chase NFL aspirations. But had Hiestand stayed, sophomore-to-be Billy Schrauth and grad senior Andrew Kristofic would likely have been the favorites to move to the top of the depth chart.
A new offensive line coach may use the same methodology as Hiestand in picking starters, and that's determining who his top five were regardless of position, then retro-fitting them to individual positions. Or he could strictly sort who's a tackle and who's an interior player and base his depth chart on that formula.
In either scenario, Spindler can look at it as a fresh start and a second chance to make a strong first impression.
Chris Tyree, senior, running back
The question was already there when it was assumed Rees would be directing the offense in 2023, and that's: Would a switch to slot receiver be best for Notre Dame's third-leading rusher in 2022, and best for the Irish as well?
Tyree rushed for 444 yards on 100 carries and three TDs last season and only had six fewer receptions than Styles (24 for 138 and two TDs), but the 5-10, 197-pounder's elite speed rarely showed itself in how he was used in 2022.
And this fall there will presumably be six healthy running backs, including 2022 spring sensation Jadarian Price back from an Achilles tear and vaunted newcomer Jeremiyah Love added to Logan Diggs, Audric Estimé and Gi'Bran Payne all competing for carries.
The Irish finally do have numbers in the receiving corps but not a lot of body types like Tyree, with experience and elite speed to boot.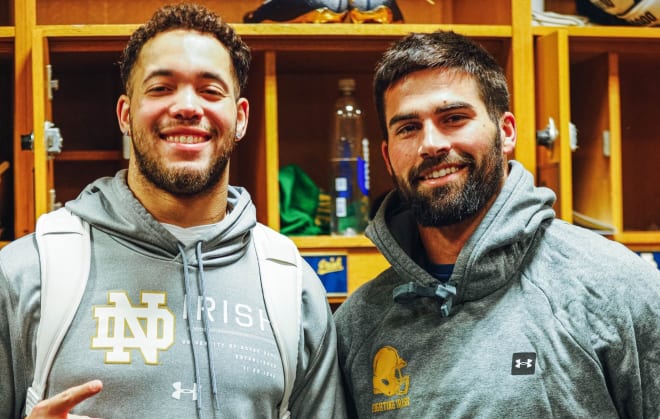 Kaleb Smith, grad senior, wide receiver
The 6-2, 222-pound Virginia Tech transfer's receiving numbers (37 receptions for 674 yards and three TDs) are all the more impressive when you add the context of Smith producing them in 11 games (not 13) and in one of the worst offenses in the FBS.
Virginia Tech (3-8) ranked 120th out of 131 nationally in total offense, 113th in team pass efficiency and 118th in scoring.
It's unlikely Parker this spring would redefine the receiver positions from the Rees/Brian Kelly days, but he may use Smith at multiple receiver positions, which would make him a strong candidate to be a starter.
Though receivers coach Chansi Stuckey is one of the few constants on the offensive staff in year two of the Marcus Freeman regime, a new coordinator, presumably a new starting QB and a new playbook puts him on equal footing with everyone else in terms of a learning curve this spring.
Hopefully, too, he develops a good nickname to differentiate himself from incoming freshman receiver Kaleb Smith.
Sam Hartman, grad senior, quarterback
Hartman likely saw and liked, when picking a transfer destination, a lot of the things Saban liked when he poached Rees earlier this month to come to Alabama. And yet could the former Wake Forest multi-year starter be better off with Parker running the offense and Guidugli free to focus full time on developing quarterbacks?
Almost all of Guidugli's sample size as a QBs coach is eaten up by the four-year development of former two-star prospect Desmond Ridder, an NFL starter this past season for the final four games of the Atlanta Falcons' season.
And most of Rees' is tied up in Ian Book's five-year progression.
What the numbers say is that Ridder at Cincinnati was the better passer both at the onset of his four-year run as a starter (146.4 efficiency rating) and at the finish (158.7) than Book was (144.3) in the season leading up to the New Orleans Saints drafting him in the fourth round.
Head coach Marcus Freeman on Monday vowed Parker wouldn't be running the Tommy Rees offense, but he was just as adamant in insisting Rees' successor make sure the NFL concepts and structure would remain.
Which should fit with Hartman's goal of deferring his NFL dream for another year of development that could enhance his NFL Draft equity next spring.