2023 three-star safety Ben Minich announces Notre Dame commitment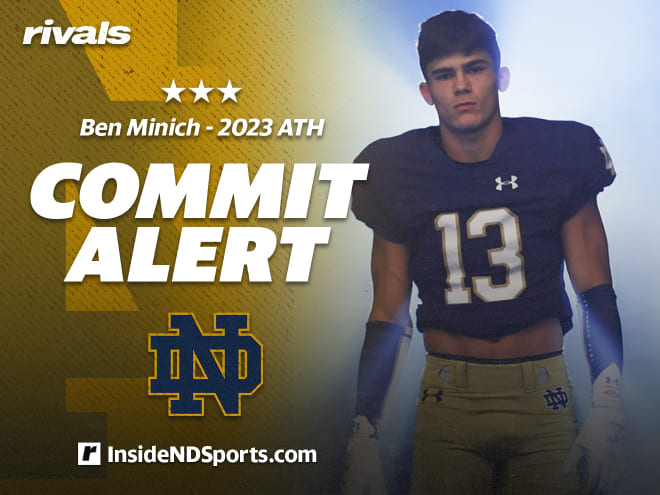 The only thing that might be faster than Ben Minich's Notre Dame commitment is his speed.
On Friday, the Irish landed the three-star safety from West Chester (Ohio) Lakota West High 16 days after offering him. The Irish beat out teams like Cincinnati, Duke, Oklahoma, Wake Forest and others for the No. 34 player in Ohio.
Minich is Notre Dame's second commitment in as many days. On Thursday, the Irish landed four-star linebacker Jaiden Aussberry.
Although Minich, a 6-foot-1, 180-pound athlete, is unranked nationally by Rivals in the top 250 or by position, Notre Dame and other teams have identified Minich as a priority defensive back. The increased attention came especially after he clocked a 10.47-second 100-meter dash (wind-aided) last May.
Before making his pledge, Minich totaled 24 offers. But the Irish came out on top because of his appreciation for academics and his relationships with the ND coaching staff.
After camping with the Irish on June 21, Minich kept an open dialogue with safeties coach Chris O'Leary, head coach Marcus Freeman and director of recruiting Chad Bowden. While it took the Irish about a month to officially extend the scholarship offer, Minich sensed they were serious about him.
"That's how I knew it was legit," Minich said of the attention Notre Dame gave him leading up to the offer. "That's why they're the No. 1 recruiting class. They're on it. They're calling and talking every day. It means a lot. It shows that you're a priority. Even without an offer, they were doing all that."
SUBSCRIBE TO INSIDE ND SPORTS TO STAY IN THE KNOW ON NOTRE DAME ATHLETICS
JOIN THE CONVERSATION ON THE INSIDER LOUNGE MESSAGE BOARD
Since Rivals does not currently rate Minich as one of Notre Dame's top 20 commits, he does not count toward the 2023 team rankings. The Irish remain in the No. 1 spot ahead of Alabama by 200 points. Notre Dame has 22 commits, including five defensive backs.
At Lakota West High School, Minich is a two-way player on a team full of stars. As a junior, he recorded 49 total tackles (34 solo, 15 assisted) and an interception returned for a touchdown on defense. Offensively, he caught 16 passes for 251 yards (15.7 yards per catch) and four touchdowns.
"He can cover a lot of ground and he can hit," Prep Football Report recruiting analyst Tom Lemming said. "He's a ballplayer. He's very good In pass defense and he's a ball hawk. He flies around and makes tackles. He's an outstanding talent."
Minich's teammates included 2023 four-star safety Malik Hartford, 2022 four-star cornerbacks Jyaire Brown and Alex Afari, and 2023 three-star cornerback Joshua Fussell. Notre Dame previously targeted Hartford as its third safety in the class, but he chose the Buckeyes over the Irish.
Though Hartford committed elsewhere, he offered a positive review of Notre Dame, according to Minich.
"Malik said he loved the place," Minich said. "He liked all the coaches — coach (defensive coordinator Al) Golden, coach O'Leary… He said Notre Dame was right up there in his decision. He thinks it's one of the top places I need to consider."
Despite losing Hartford to Ohio State, Notre Dame has been otherwise successful in Southeast Ohio. Since 2005, the Irish have signed 19 prospects from that area. Among them was former Cincinnati Elder High tight end Kyle Rudolph, a cousin of Minich's mother.
Freeman also hails from Huber Heights Wayne High, the same school as ND freshman offensive tackle Aamil Wagner.
With Minich in the class, Notre Dame's attention turns toward quarterback and adding more playmakers on offense. The Irish took a step in both directions last week by offering Kenny Minchey and running back Dylan Edwards. On Saturday, Edwards is set to announce his second commitment after recently decommitting from Kansas State.