2021 WR Kaden Dudley Reviews First Irish Visit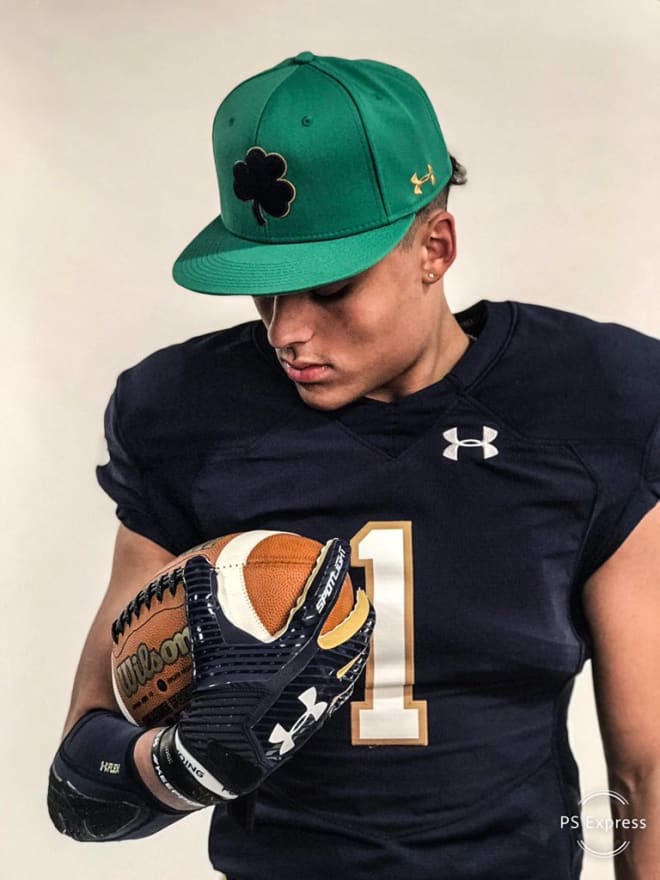 Notre Dame has hosted several prospects on campus over the last several weeks, including 2021 wide receiver Kaden Dudley of Colorado Springs (Colo.) Palmer Ridge.
The 6-foot, 189 pound Dudley said the trip to Notre Dame was one of his best visits yet.
"The trip was amazing," Dudley said. "Notre Dame is definitely rich in history. I had a great time and a great experience for sure."
Even though he was only on campus for a day, Dudley said he was still able to get the full Irish experience.
"When I first got there, I went straight to practice with the recruiting people," Dudley explained. "I met a lot of the coaches, met the nutritionist and the strength coach. After that we went on a campus tour and got to see all of that, got to eat in the dining hall and that was all pretty cool."
After watching practice, Dudley said he was impressed with the atmosphere surrounding the team and the football program.
"It was cool for sure," Dudley said. "The practice was high on intensity. I mainly watched the receivers and it was definitely an intense practice."
Overall, it was a strong first trip to South Bend for Dudley, who hopes his Irish recruitment will continue.
The sophomore said he was blown away by how intelligent everyone in South Bend seems to be.
"The knowledge of the people on campus for sure," Dudley said of what stood out to him. "There's a lot of knowledge around there and it's definitely a beautiful campus."
So far, Dudley has two offers, one from in-state Colorado and fellow in-state program Colorado State.
As his list expands, Dudley said he'd love nothing more than to land an offer from the Irish.
"That would mean a lot," Dudley said. "I love Notre Dame. That would be a dream come true."