2021 OL Harisen Miller Reviews First Notre Dame Trip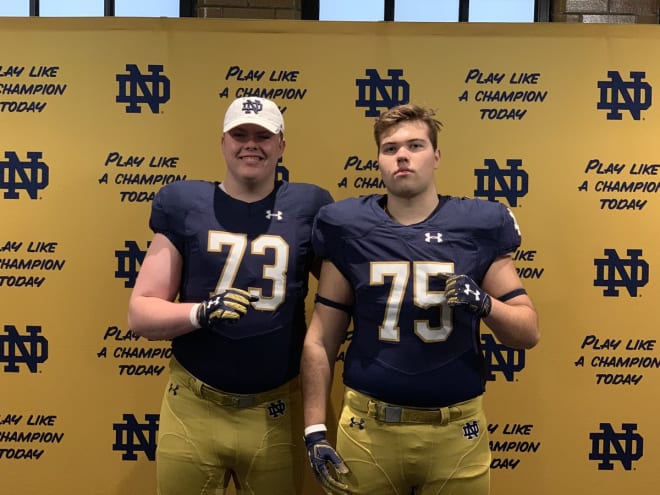 Notre Dame hosted a strong list of prospects over the weekend for Junior Day, including 2021 offensive lineman Harisen Miller of Nashville (Tenn.) Hillwood.
Following the visit, Miller said the trip to Notre Dame was a great experience.
"I loved it," Milller told Blue & Gold Illustrated. "The visit was amazing and the campus was great. Coach (Jeff) Quinn was amazing."
Miller, who made his first trip to South Bend over the weekend, said the academic aspect of Notre Dame caught his eye in a big way.
"They're really focused on academics," Miller said. "Most colleges are more focused on football. They're focused on winning championships, but they also want to improve your life by giving you a good education. Notre Dame is well known for that. If you go anywhere and try to get a job and you say you graduated from Notre Dame, they usually are going to give you the job."
After spending a decent amount of time with offensive line coach Jeff Quinn, Miller said he came away impressed.
"He seemed like he's a nice guy who can be hard when he needs to be hard but can also be a really cool guy," Miller said. "I talked to some of the lineman there and they said he'll get mad at you if you're not doing stuff right, but he'll love you like a son as well. I like that in somebody."
Miller does not hold any offers heading into his junior season, but it hopeful they will start to come along soon.
If Notre Dame decides to offer, Miller said he would be ecstatic.
"That would be pretty big for me." Miller said. "They were number four in the nation last year and it's a great school. They would give me a great education and I'd be able to wear the Fighting Irish uniform, which would be amazing."