2019 OL Andrew Kristofic Commits To Notre Dame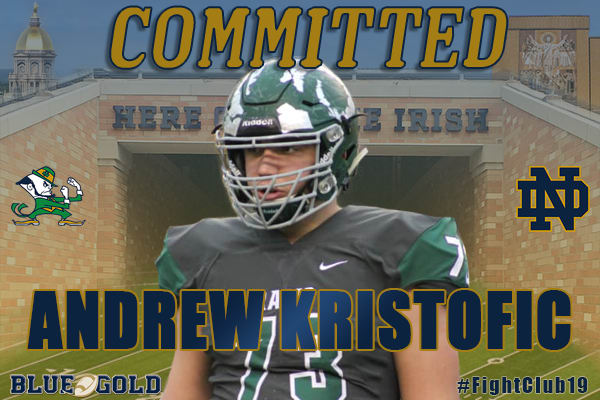 Notre Dame has struck at Gibsonia (Pa.) Pine-Richland for the second-straight cycle landing 2019 offensive tackle Andrew Kristofic.
The 6-foot-6, 260-pounder announced a commitment to the Irish today over the likes of Clemson, Ohio State, Wisconsin, Florida, Georgia, Michigan, Michigan State, Virginia Tech and many others.
Kristofic took his first visit to Notre Dame on March 27 and was blown away by the experience. He returned Monday (April 23) and made his decision.
"It was an awesome visit," Kristofic told Blue & Gold Illustrated at the time of his March visit. "It was an incredible day. We were there first thing in the morning for all the meetings and practice. We got to meet with everyone and see everything that we could have.
"I really haven't had a bad visit, but that was definitely the best visit I've been on so far."
Notre Dame's mix of academics, football and offensive line tradition were some of the main attractions to the Irish program for Kristofic.
"The combination that their school is able to provide being one of the very best schools in the entire country academically and one of the very athletically stands out," Kristofic explained. "I think they have the best combination of those two things on top of being a school that is known for being able to produce such great offensive linemen is something that no other schools really have the combination of all those.
"When you can put together all the things that they can there, it's certainly not something you can overlook or take for granted."
Between January and early April, Kristofic took unofficial visits to Notre Dame, Clemson, Ohio State and Virginia Tech.
Kristofic will join Notre Dame 2018 quarterback signee and fellow Pine-Richland Ram Phil Jurkovec in South Bend.
Notre Dame now has seven commitments in the 2019 class with Kristofic making his pledge. He joins Rivals100 offensive tackle John Olmstead, Rivals100 safety Litchfield Ajavon, Rivals250 defensive end Howard Cross III, four-star defensive linemen Jacob Lacey and Hunter Spears and three-star cornerback KJ Wallace.